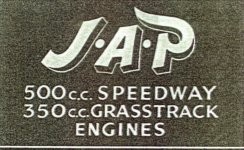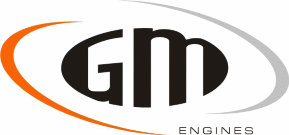 ---
Cycle Speedway
(North East England)
1947 to 2017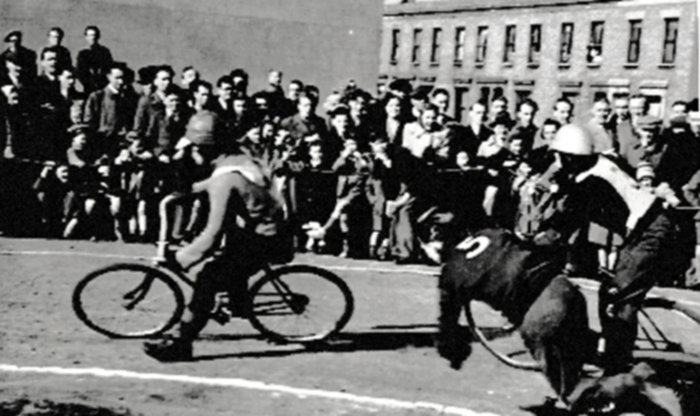 1950
---
Introduction
Welcome to the Newcastle Cycle Speedway website. Cycle speedway was born after the end of World War 2. The motorised version of speedway was huge at this time, Newcastle's Brough Park drew thousands of spectators every week and many young men were keen to emulate their dirt track heroes on their bicycles. Many cities had been bombed during the war, and there was ample space to race on bicycles against your friends. Within a short time in the late 1940s and early 1950s cycle speedway tracks were built, some had concrete starting areas and rising starting tapes, teams were formed and leagues were started.
In Newcastle and surrounding areas, various tracks were built and many teams existed. We know of local cycle speedway tracks including Bensham Broadsiders (Gateshead), Brough Park Eagles, Byker Red Stars, Seaton Delaval, Team Valley, Wallsend and Newcastle Harts (also Byker).
We cannot agree just when cycle speedway started in the Newcastle area. Our earliest confirmed date is September 1949, we do not know when the sport died out. We can assume it would have been around 1951 when Brough Park Speedway closed down and there was no conventional speedway in Newcastle until 1961.
1949

The Beginning
In Newcastle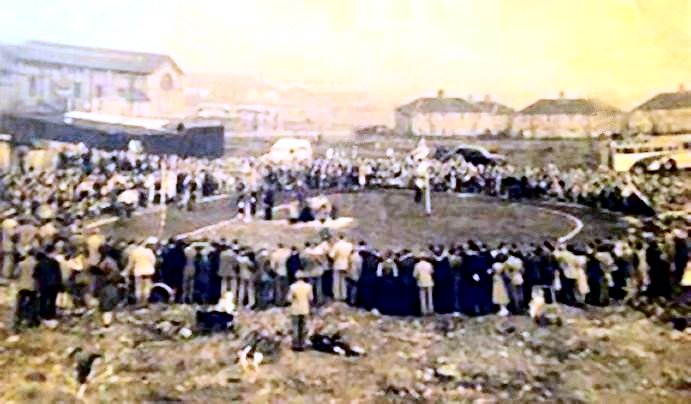 We think the above photo was taken on 26th September 1949 when a Newcastle team entertained a side from Edinburgh at a track at the top of the Fossway about 500 yards from Brough Park. Were you there or was a relation of yours there? If you have any information about this event or anything about cycle speedway in the north east please email me
Keith
---
Micky Dobson and Keith Dyer 1968 riding for Newcastle Vikings at Eastfield Avenue in the East End of Newcastle in the 1960s
Keith Dyer is the "owner" of this cycle speedway website. If you have photographs or memories of the sport to share with us via this website, please email me
Keith
---
Keith Dyer RIP
John Skinner says: I did the website as a favour for my friend Keith. I am not a cycle speedway fan so I am looking for someone to take over ownership of the website. I would be happy to keep up the admin if you cannot do it yourself. If you are interested send me an email and I will answer your questions and explain what is involved.
South Shields' Les Gustafson Comments re Keith Dyer
Les Gustafson says: Hi John,
I sent this to the 33-18 Cycle Speedway site..I don't know if they'll include it sometime. They haven't done yet. I still don't know how I saw neither your mention of Keith's passing or the brief one on '33-18', until very recently and by chance.
Did anyone contact you about the site ?
Les
John says: No Les no-one has contacted me about ownership of the website since Keith died. I will keep it going for a while but ultimately without a sponsor the site's days are numbered!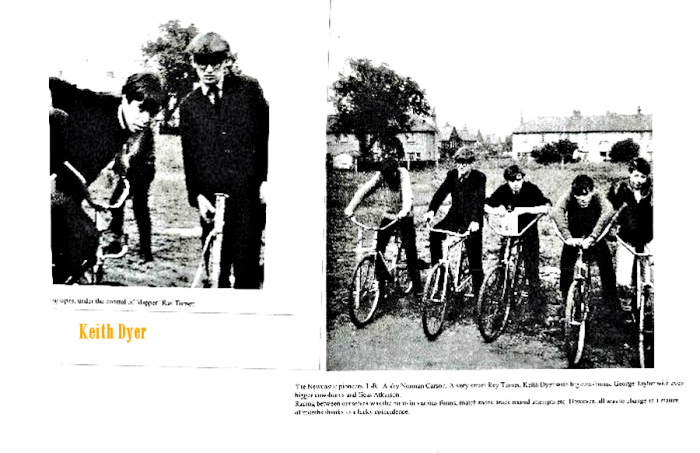 Les' piece about Keith:-
Earlier this year you posted a backdated obituary of Edmund Hall, a pioneer of the sport on Tyneside in the immediate post-war years, and - more recently - one for Keith Dyer, an important figure in the area in the mid-60s and beyond. Sadly, Keith passed away at a comparatively early age, given that his contemporaries Terry Kirkup and Frank Auffret have still been taking to the track in Vets events, although Keith's participation in recent years was limited more to officiating from the centre green.

The photographs in the attachment are from 1965, at Moorland Park, the Newcastle club's original tiny track - 33 seconds for four laps, and narrow - so given the extravagant handlebars displayed by Keith and his team-mates there was never a chance of getting all four riders in line abreast on the start line - Keith showing an eye for the camera as he strains at the tape (a few years later there was a pukka starting gate, but woe betide anyone colliding with it due to its solid construction).

The 'lucky coincidence' mentioned in the photo caption was the publication of Harold Smith's 1966 Cycle Speedway Annual, in which we found the name and address of a Newcastle club (Keith and his mates), and this led to a regular Test series between Newcastle and South Shields, which both teams in their ignorance thought was a first, and only discovered much later the extent of activity on post-war Tyneside involving both locations.

Keith was chuffed to merit a mention in Rod's '50 years of CS' and in Dave Murphy's 75th Anniversary edition, and he turned out for Hawbush in some matches when he was working in London, but his true legacy is the massive website chronicling the history of the sport in the North East, covering its origins in the years after World War II and through the seventy years running up to the revival at Cramlington, and which led to a phone call I received from a voice not heard for forty years.

Although entitled 'History of Newcastle CS', it expanded to include both banks of the Tyne, particularly Wallsend and South Shields, as well as Middlesbrough, and even the 1950 team at Catterick Army Camp. Keith entertained ideas of incorporating everything into a publication of his own, but the site may have to remain as his memento. It was set up and administered by his fellow Diamonds' enthusiast, John Skinner. www.newcastlecyclespeedway.co.uk
John says: Les Gustafson has come to the rescue. I am happy to be working with him, Keith would have approved of Les joining me.
If you would like to thank Les or supply comments/info then email him here. Les
Newcastle v
South Shields
1966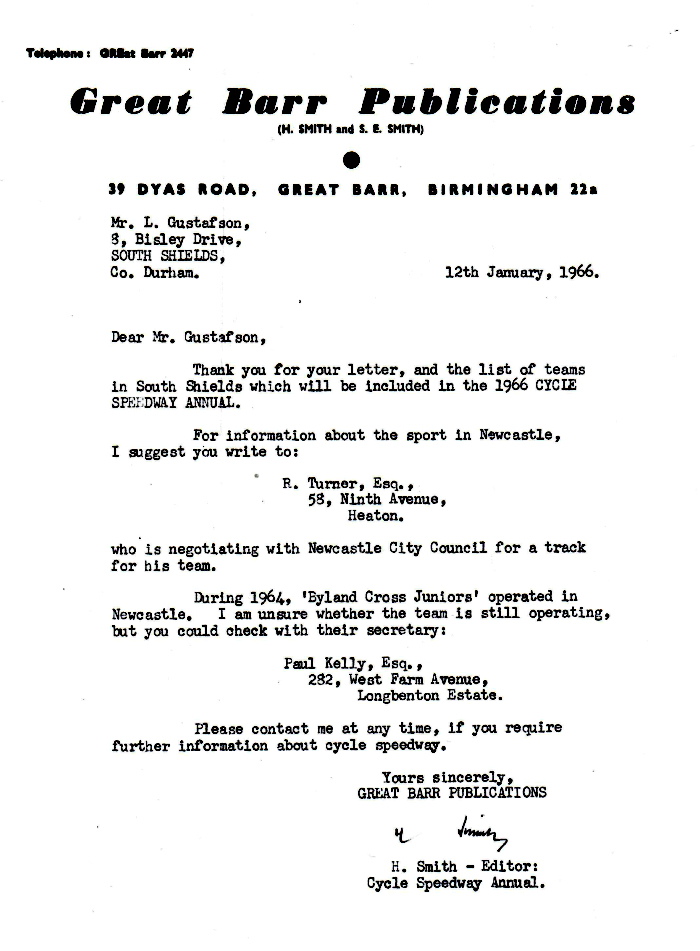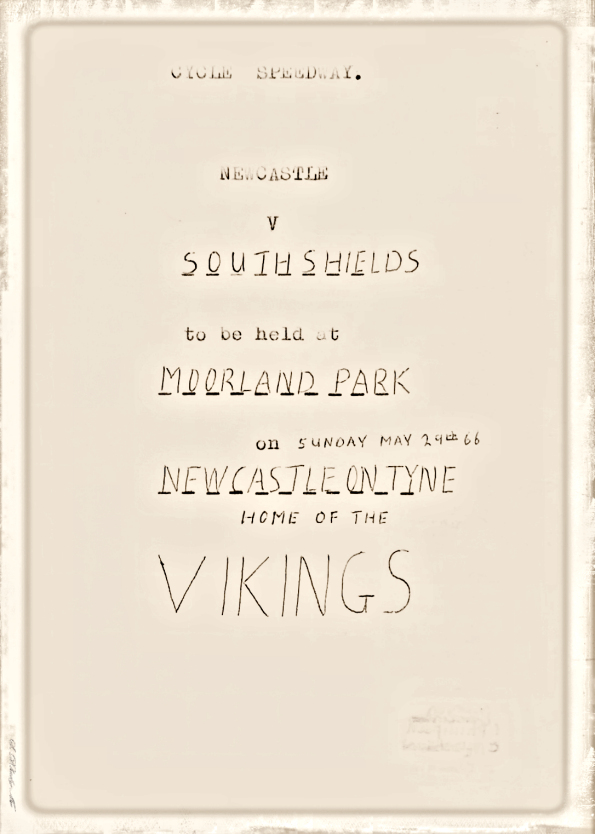 Programme for a second meeting of the Tyneside teams in May 1966 in Walkergate - the first one, a couple of weeks earlier, had been a Test Match between Newcastle and South Shields, but this one was a Club match between Walkergate Vikings and Trow Lea Mariners. The initial meeting of the teams had been at the end of April in Shields at their track by the seafront.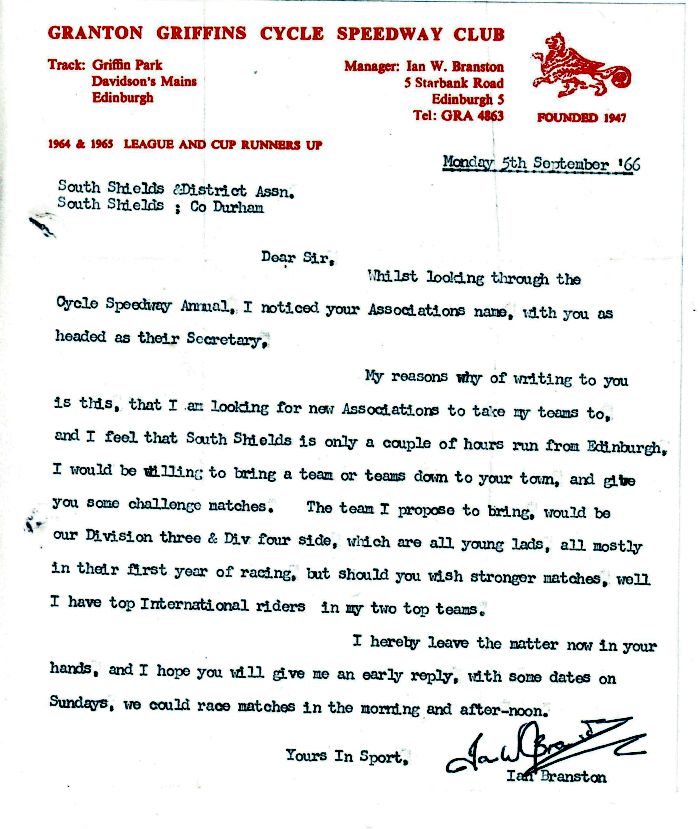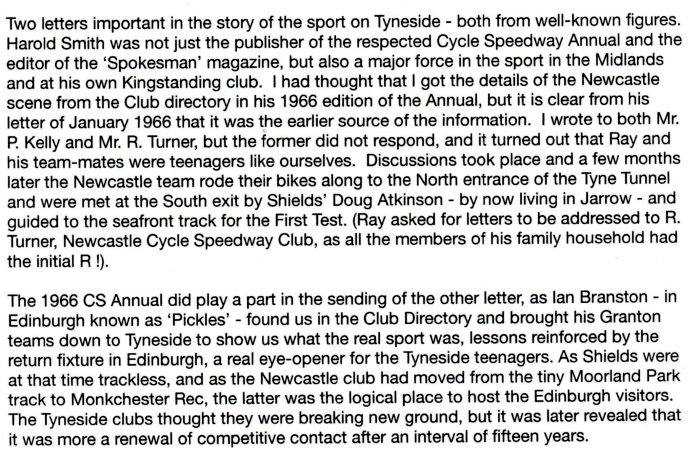 ---
Eastfield Avenue
In Newcastle 1986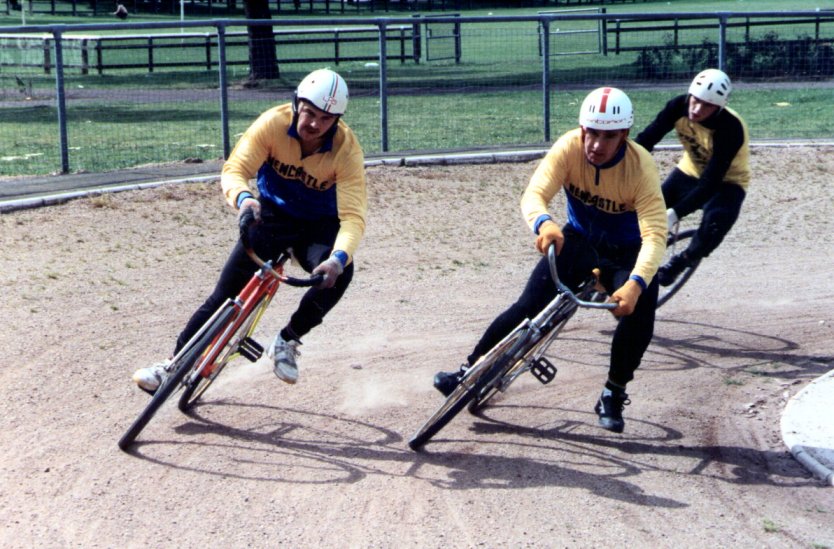 The contents of the site are © and should not be reproduced elsewhere for financial gain. The contributors to this site gave the pictures and information on that understanding. If anyone has any issue or objections to any items on the site please e-mail and I will amend or remove the item. Where possible credit has been given to the owner of each item.